Upgrade Triple Glazing for the ultimate in performance:
Is it worth having Triple Glazed Windows in my home?
A question we are often asked when consulting with our clients is, "Is Triple Glazed worth it?". In short, Yes!
Triple glazed is 2 panes of glass as opposed to 1 or 2. The science behind this is that by having the extra pane, you should increase efficiency, a warmer home thanks to less heat loss and also reduce outside noise. Triple glazed windows have a' U-Value' of 0.8. The U-value is the term used to measure the energy efficiency of a window, with old double glazing measuring a U-Value of 3, and more modern Double Glazing having a score of 1.6. So, as you can see, triple glazing is a vast improvement.
What is the Difference between Double and Triple Glazed Windows?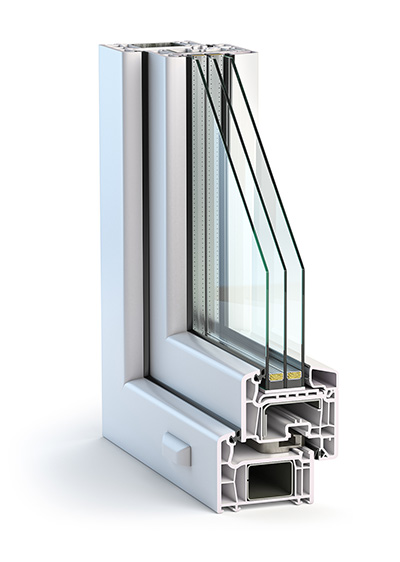 When weighing up the options when it comes to updating your windows, it is important to understand the main differences between double glazed windows and triple glazed windows. When we fully understand this, we know the full pros and cons of both.
The only real physical difference in both is that triple glazed windows have an extra pane of glass. So can one pane of glass really make that much of a difference?
Double glazing is less expensive and lighter so easier to install as opposed to Triple glazing that may require structural support around the window frame to with-stand the weight.
One of the most important areas to consider that we have mentioned in our site is the U-Value (measurement the energy efficiency). The lower the U-value the better, and signifies that the material works better as a insulator and helps keep your home nice and warm. The U-value of Double Glazing is 2.8 where the U-value of Triple Glazing is 0.8.
Do you get condensation with Triple Glazing?
Triple Glazed windows have a very low U-Value (the importance of which we mention here) due to the use of a low emissivity coating and Argon gas. On a still night, the temperature of the outer glass surface can easily fall below the exterior air temperature or even its dew point temperature. Condensation occurs when the glass temperature falls below the dew point temperature but rest assured this is perfectly normal and a sign that your window is doing its job. This condensation will not evaporate until the glass is heated by wind, sunlight or heat transfer from inside your house.
Our triple glazed windows will suffer external condensation, as they are very thermally efficient.
If you experience Condensation in-between the panes?
If you see that condensation is appearing between the panes of your window this unfortunately means that the seal around the glass is not working as it should. There are options to fix this but it cannot remove any stain or water marks that have appeared up to this point.
The best solution here is to replace the glass unit, a very simple task on modern glazing that has a beaded system. C&S Windows offer a free measuring and quoting service. All old glass units are sorted and skipped for recycling, so please contact us today for further information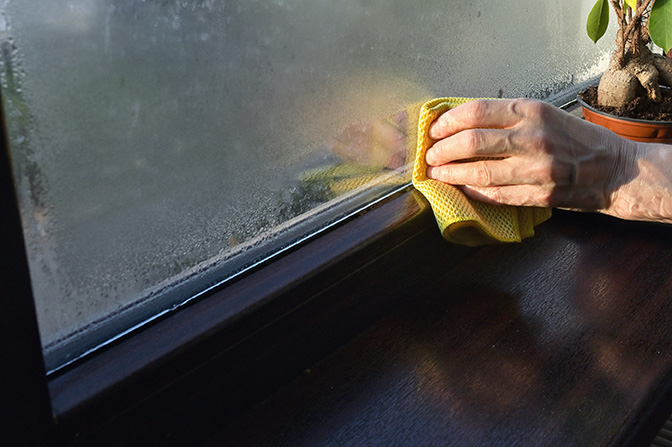 What if I get condensation on the inside of my windows?
If you are seeing condensation appearing on the inside of your window it is because there is excessive moisture in the room. Commonly visible during winter, it occurs when warm air inside the house condenses on cold windows. This is a sign that there is poor insulation quality and can be damaging to your home and to your family's health. If this is your case, you'll need to check for air leaks around the window and window sill. We would recommend you give us a call if this is happening as we can recommend if it needs to be resealed or replaced, depending of course on the severity of the gap.
C&S provide high quality insulation and try to be as competitive as possible in today's market, providing you, our customer, with value for money.
Triple glazed windows can be the most high performance, thermally efficient window solution on the market.
Why Upgrade Your Windows?
Upgrading your windows has many benefits including reducing noise limits, eliminating draughts and having no maintenance, see more benefits here.
Are you experiencing problems with draughty doors or windows? All repairs are carried out by our fully trained and qualified fitters.
"We are delighted with our Windows and door Brilliant to deal with .They were 3 thousand cheaper than a local company can't recommend them enough"

eithne long -
Lucan
"Lorraine was a pleasure to deal with and helped us with everything from picking the design and colour right up to when the job was completed. "

Padraig McNamara -
Castleknock